Cloud-based logistics software built for small to medium businesses
FleetRunnr leverages cloud-based software to make logistics management easy—from first mile to last mile and every mile in between. Unlock robust, enterprise-grade features at SMB value and transform the way your world moves.
Request a free demo
Ready to manage more orders with less internal resources? Get in touch today to see the platform in action.
BENEFITS
An easy-to-use logistics management solution that scales with your business
Deliver more packages in less time
Increase deliveries and maximize your profits by taking advantage of the driver repositioning algorithm. Automatically balance workloads by rerouting your idle drivers to delivery hub hot zones.
Accurately track your drivers from anywhere
Keep track of your fleet while they're on the road. FleetRunnr uses GPS to showcase your driver's positions on the map so you can quickly tell who is where with one glance.
Optimize routes in real-time
Minimize delivery delays by quickly and easily updating driver routes as traffic changes or any other contingency arises. Generate highly accurate ETAs to predict arrival and delivery times.
Take the guesswork out of scaling
Use simulation forecasting models to scale with ease. Adjust your inputs—future orders, geography zones, timeframes, and drivers—to estimate your outputs, and plan accordingly.
TESTIMONIALS
Hear from our customers
"The team at FleetRunnr is extraordinary. They're responsive. They're very polite. They're ethical. And they're hard workers. I couldn't have asked for better people to partner with."
"By using FleetRunnr, we started to be more organized. We have more peace of mind. You feel more comfortable using FleetRunnr than building your own solution."
FEATURES
Transparent first mile delivery
Set your business up for success with first mile shipping. A strong customer experience starts with an effective first mile setup. With FleetRunnr, order tracking begins the moment the system receives an order notification. Offer accurate tracking and order visibility to your customers, and automate everything from route planning to notifications using FleetRunnr for a more effective first mile delivery process.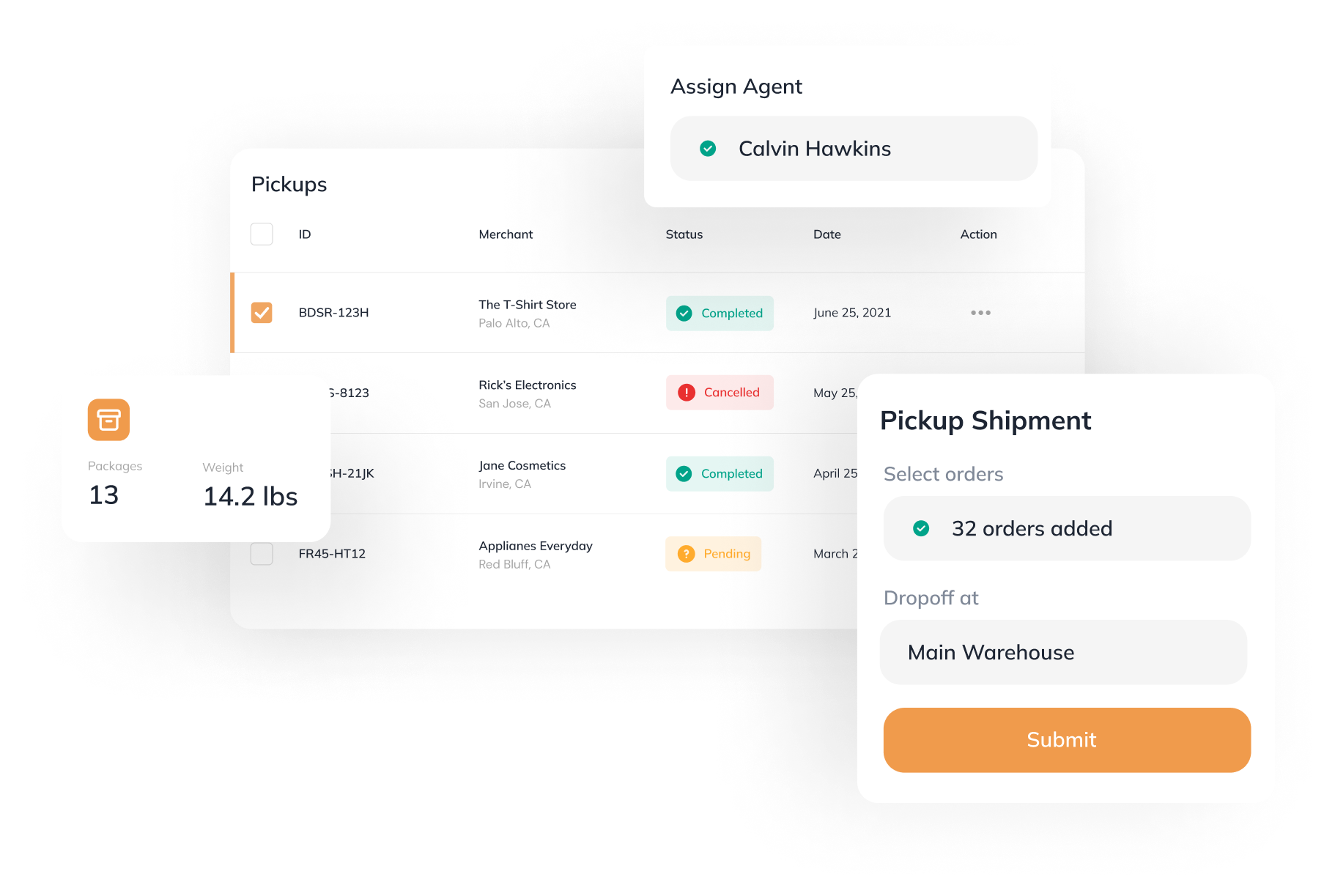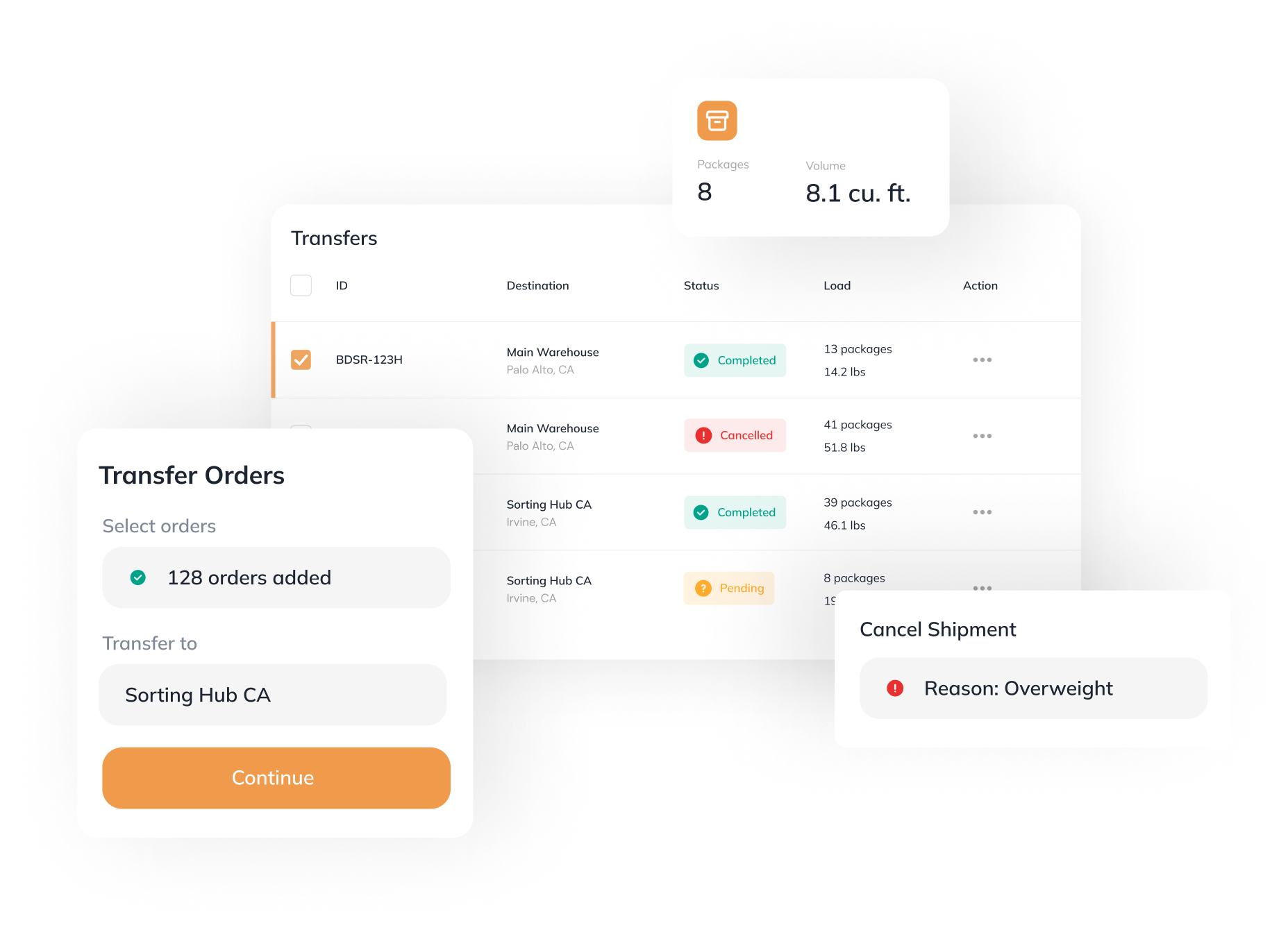 FEATURES
Easy package transfers
Gain a competitive edge with middle mile management on FleetRunnr. Move packages closer to the final destination by managing internal warehouse transfers easily throughout each order's lifecycle. Leverage your fleet and maintain complete control as you make quick, flexible changes to your supply chain. FleetRunnr's cloud-based logisitcs software will help you reduce shipping costs and transform your middle mile process to effectively manage your resources and workforce.
FEATURES
Last mile orchestration
Complete the critical last mile step with ease. FleetRunnr's logistics management software effortlessly manages the delivery process, allowing you to offer your customers speedy results. Provide all parties visibility into the order process with scan updates and proof of delivery. Whether the final destination is your customer's doorstep or another warehouse for international shipment, orchestrate each move with ease.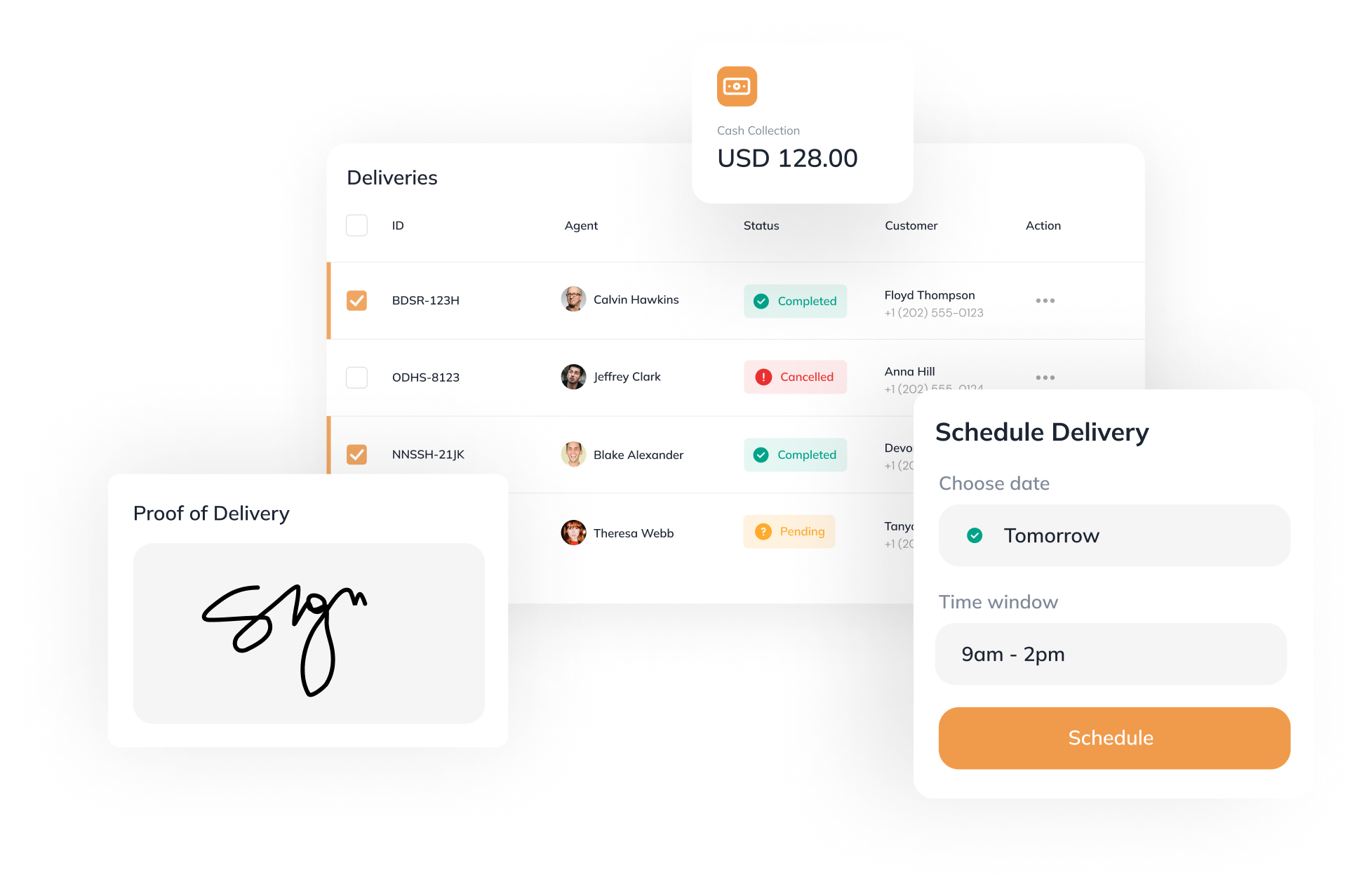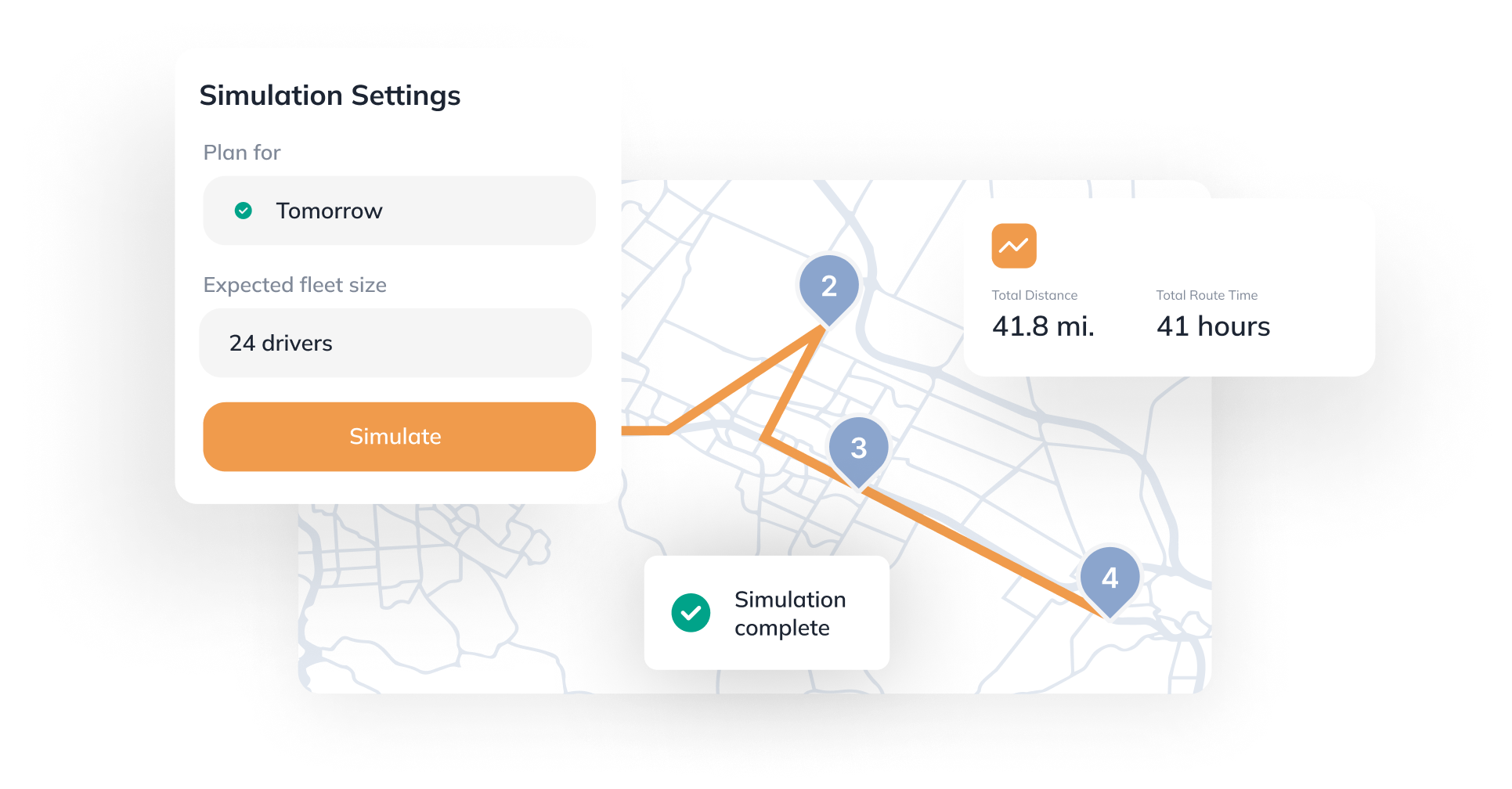 FEATURES
Simulation Modeling
Make informed business decisions and take the guesswork out of scaling with simulation forecasting models. Adjust advanced inputs such as future orders, geography zones, timeframes, and drivers to estimate your outputs. Accurately formulate plans around package distribution, driver workflows, fuel consumption, and distance traveled. Create operational efficiency without the risk as you run through various "what if" scenarios for your fleet.
FEATURES
Dispatch Management
Automate your agent's package assignments with the help of AI-powered technology. Input restraints such as skill, time window, geo-zones, traffic, and more—then let the system do the work. Create more cost-efficient, balanced routes by distributing the optimal number of orders to each vehicle and driver. And with FleetRunnr's automated AI technology, dynamically change your plan based on new information.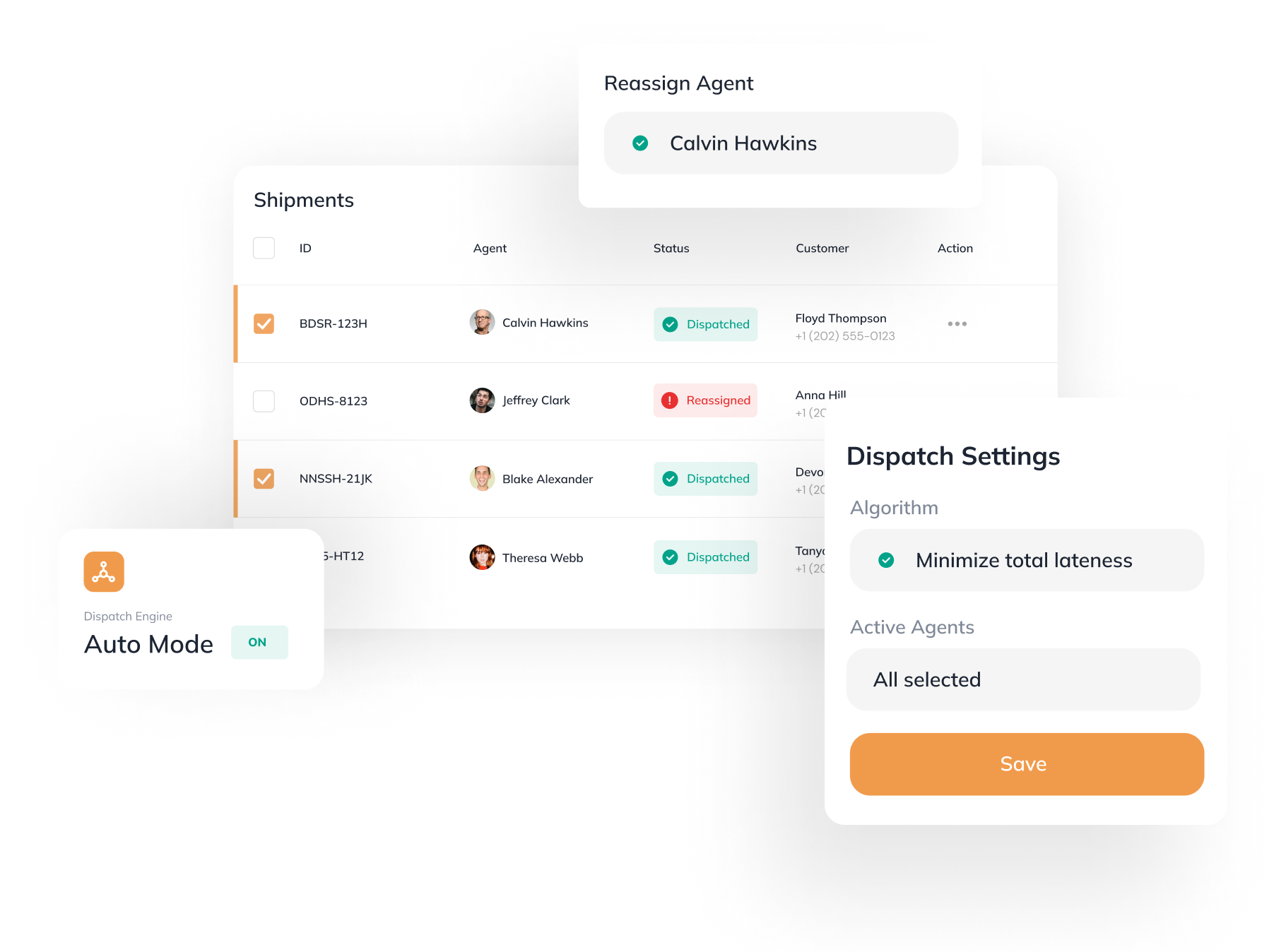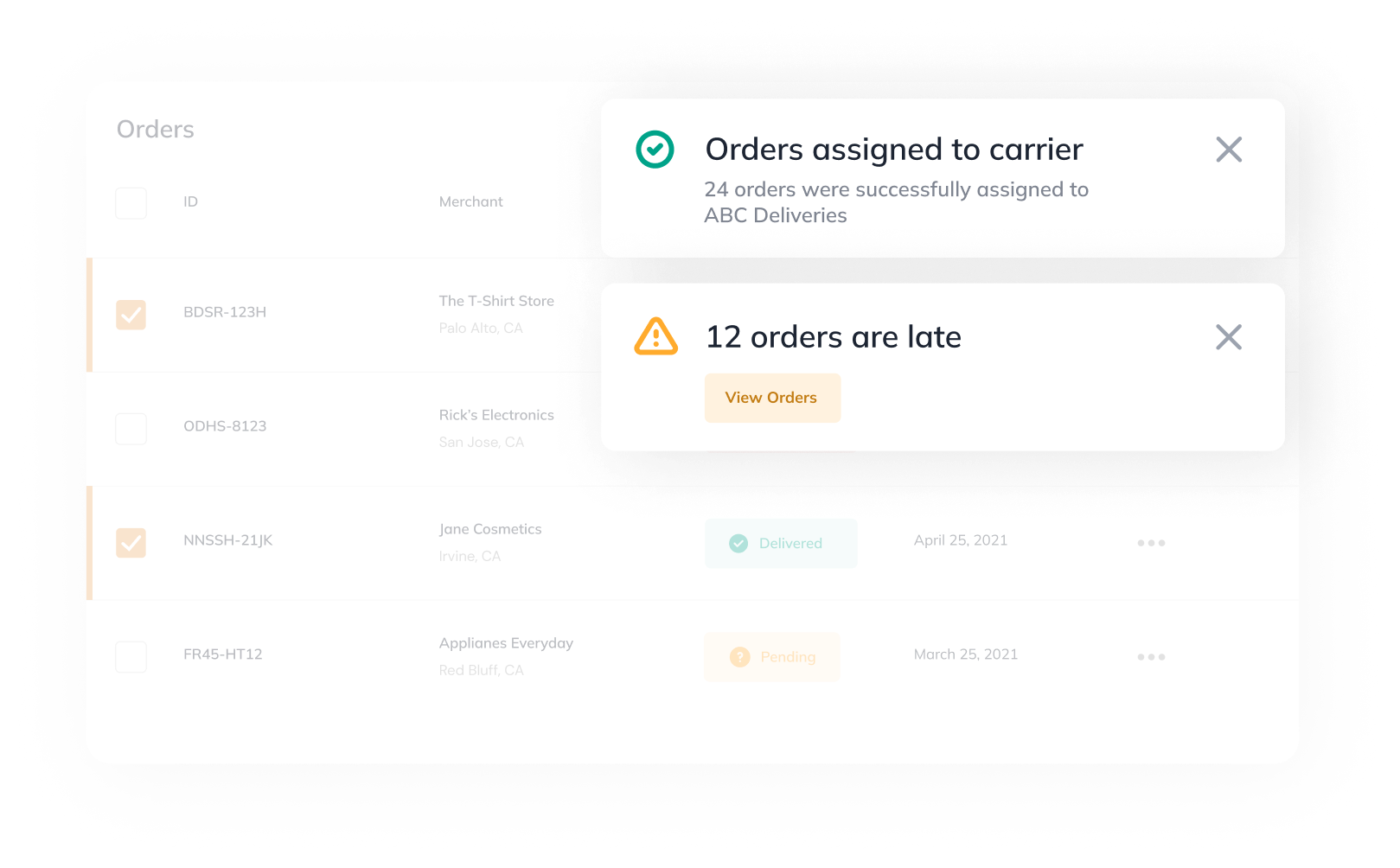 FEATURES
Predictive Alerts
Head off potential issues by setting up notifications to help manage your business. Using FleetRunnr, receive order notifications based on important events to maintain visibility. If an order is late, flagged, or mentioned in a customer service message, receive an alert to easily track down and solve problems before they happen.
Request a free demo
Ready to manage more orders with less internal resources? Get in touch today to see the platform in action.
CONNECT ALL YOUR TOOLS
Open API Integrations
ACCOUNTING
Coming Soon:
MESSAGING
E-COMMERCE
Coming Soon: